View information about our upcoming show auditions here.
DIRECTOR: Melissa Broy Fortson
MUSIC DIRECTOR: Tina James
CHOREOGRAPHER: Kristin Rigsby
At the Nile's edge, the enslaved Nubian princess, Aida becomes romantically entangled with the Egyptian captain, Radames, who is betrothed to the Pharaoh's daughter, Amneris. As their forbidden love grows deeper, Aida is forced to find balance between her heart's yearning for Radames, and her responsibility to lead her people.
Based on the opera by Giuseppe Verdi, Elton John and Tim Rice's Aida is a timeless love story, featuring an award-winning pop/rock score from the seasoned pop duo who brought musical life to Disney's The Lion King. Rousing rock numbers and heart-wrenching ballads bring the ill-fated lovers into a new era.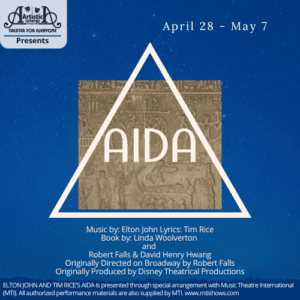 Music by: Elton John
Lyrics: Tim Rice
Book by: Linda Woolverton, Robert Falls, & David Henry Hwang
Originally Directed on Broadway by Robert Falls
Originally Produced by Disney Theatrical Productions
ELTON JOHN AND TIM RICE'S AIDA Is presented through special arrangement with Music Theatre International (MTI). All authorized performance materials are also supplied by MTI. www.mtishows.com
In-Person Auditions
Those auditioning please bring:
Headshot

Resume

Any expected conflicts

Audition Form (download here.)
Be prepared to:
Sing approx. 32 bars of a song that matches the style of the show
Learn a short dance
Saturday 2/18 @ 11-1pm
Monday 2/20 @ 6:30 – 8:30pm
Tuesday 2/21 @ 6:30 – 8:30pm
Info to be posted on Facebook as well.
April 28 – May 7
Fridays & Saturdays @ 8:00pm
Sundays @ 3:00pm
Tech Week: April 23 – 27 (Board Night)
Rehearsals Days: Saturdays 10 – 1pm, Mondays, 6:30 – 9:00, Thursdays 6:30 – 9:00
Starting Date: TBD
All Roles Are Open
All Roles Are Non-Paid / Non-Union
For more information:
Call: 410-833-5181 or email: ArtisticSynergyBaltimore@gmail.com
Radames (Male Identifying), Lead, Tenor
Aida (Female Identifying) Lead, Alto
Mereb (Male Identifying) Supporting, Tenor
Zoser (Male Identifying) Supporting, Tenor
Amneris (Female Identifying) Supporting, Mezzo-Soprano
Amonasro (Male Identifying) Featured, Spoken
Nehebka (Female Identifying) Featured, Mezzo-Soprano
Pharaoh (Male Identifying) Featured, Spoken
Ensemble (All) Ensemble, Variety
Please note (Intimacy Warning):
Artistic Synergy of Baltimore is a consent based and trauma informed organization and all ensemble members will be led through intimacy and consent based practices to choreograph and block movements of the show. If you have questions regarding details or more information about these practices, please email us at artisticsynergybaltimore@gmail.com.