View information about our upcoming show auditions here.
DIRECTOR: Anthony Case
ASST. DIRECTOR: Stacey Cosden
MUSIC DIRECTOR: Robert Lopez
STAGE MANAGER: Kathy Case
CHOREOGRAPHERS: Grace Kaskel and Madi Cosden
Auditions Will Be Held In-Person
All auditions will be held In-person at Prince of Peace Lutheran Church at 8212 Philadelphia Rd, Rosedale, MD 21237.
Please prepare a 16-32 bars (approx. 1-2 minutes) of a song in the "style" of the show.
Please bring sheet music, as we will provide an accompanist. Please do not bring a song from the show, but be familiar with it.
If you can do an English accent, that is a plus, but not necessary.
There will also be a dance audition, so please dress appropriately with proper footwear. No open toed shoes, flip flops, or bare feet for dance audition.
We will provide audition sheets, but if you have a headshot and resume, feel free to bring it.
We are additionally recruiting stage crew, set designers/builders, painters, lighting and sound designer/techs, and props.
You can also download the audition form here.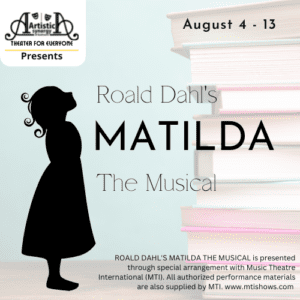 ROALD DAHL'S MATILDA THE MUSICAL is presented through special arrangement with Music Theatre International MTI). All authorized performance materials are also supplied by MTI. www.mtishows.com 
The story of an extraordinary girl who dares to take a stand and change her own destiny. Matilda is a little girl with astonishing wit, intelligence and psychokinetic powers. She's unloved by her cruel parents but impresses her schoolteacher Miss Honey. During her first term at school, the two forge a bond as Miss Honey begins to recognize and appreciate Matilda's extraordinary personality. Matilda's school life isn't completely smooth sailing, however – the school's mean headmistress, Miss Trunchbull, hates children and just loves to punish those who don't abide by her rules. But Matilda has courage and cleverness in equal amounts, and could be the school pupils' saving grace!
Inspired by the twisted genius of Roald Dahl, the Tony Award-winning Matilda The Musical is the captivating masterpiece from the Royal Shakespeare Company that revels in the anarchy of childhood, the power of imagination and the inspiring story of a girl who dreams of a better life.
Show Dates & Times:
August 4 – 13
Fridays & Saturdays @ 8:00pm
Sundays @ 3:00pm
Please Note:
Tech week will be July 29 – August 3 (Board Night).
Rehearsals Begin December 1, 2022
Please bring list of All Expected Conflicts to auditions.
No Conflicts are accepted during Tech Week or Performance Dates.
AUDITION DATES & TIMES
Saturday, May 6 @ 12 – 3 PM
Wednesday, May 10 @ 6 – 8 PM
Friday, May 12 @ 6 – 8 PM
Info to be posted on Facebook as well.
We are looking to cast a diverse group of actors, singers, and dancers between the ages of 8-18 years old. We welcome auditioners of all races, genders, sexualities, ethnicities, disability status, and other identities.
Parent(s), or adult chaperone(s) are expected to be with your child (elementary or middle school age) during auditions, rehearsals, tech week, and performances. You will be asked to volunteer in some capacity. A listing of volunteer positions will be available at the 1st rehearsal, Wednesday, May 24, 2023. Please let us know if you have any special talents, i.e., set building/painting, sewing, hair and make-up, fundraising, etc. 
All actors, singers, and dancers ages 8-18 are encouraged to audition.
(Exceptions to age may be made with permission from the Director and production team).
All Roles are Open. All Roles are Non-Paid, Non-Union
For more information:
Call – 410-833-5181 or Write – ArtisticSynergyBaltimore@gmail.com
Character Descriptions
("Child" roles will be played by kids who can pass for under 14 years old. "Adults" will be played by those who can pass for over 14 years old.)
Vocal Ranges:
Soprano: C4 to A5
Mezzo-soprano: A3 to F#5  
Alto: F3-D5
Tenor: B2-G4              
Baritone: G2-E4                        
Bass: E2-C4
Matilda Wormwood: An imaginative girl who is clever and wise far beyond her years. She has a thirst for learning that cannot be quenched. Female "Child". Vocal range: A3-D5; Belting vocals.
Miss Agatha Trunchbull: The tyrannical headmistress at Matilda's school who despises children. Female "Adult" (though often played by a male actor in drag). Vocal range: A2-G4; Good comedic actor with strong vocal technique.
Miss Honey: Matilda's kindhearted teacher. She is tired of living in fear under Miss Trunchbull. Female "Adult". Vocal range: F3-D5; Strong high range vocals.
Mr. Wormwood: Matilda's uncaring father. A slimy, greedy used-car salesman. Male "Adult". Vocal range: D3-A4; Good comedic actor.
Mrs. Wormwood: Matilda's self-absorbed, negligent mother and an amateur ballroom dancer. Female "Adult". Vocal range: A3-F5; Belting vocals, strong dancer, good comedic actor.
Michael Wormwood: Matilda's older brother. He is not very bright and favored by their parents. Male "Child". Spoken part; good comedic timing.
Bruce: Matilda's classmate. He is subject to extreme punishment by Miss Trunchbull. Male "Child". Vocal range: C4-E5.
Lavender: Matilda's classmate and friend. Female "Child". Spoken part.
Mrs. Phelps: A nice librarian who listens to Matilda's stories. Female "Adult". Spoken part.
The Escapologist: A character in a story Matilda tells to Mrs. Phelps who comes to life in their imagination. Male "Adult". Voice range: C3-E4.
The Acrobat: A character in a story Matilda tells to Mrs. Phelps who comes to life in their imagination. Female "Adult". Vocal range: D4-A4.
Rudolpho: Mrs. Wormwood's ballroom dance partner. Male "Adult". Vocal Range: D#3-A4; Strong dancer.
Doctor: Mrs. Wormwood's Doctor when she goes into labor with Matilda. Male "Adult". Vocal range: C3-A4.
Children's Entertainer: A party entertainer at the start of the show. Male "Adult". Vocal range: F#3-Eb4.
Ensemble: Cook, Sergei, Henchmen 1-3, Kids (Amanda, Nigel, Eric, Alice, Hortensia, Tommy), Big Kids, and Parents. All genders and ages. All vocal ranges. Good dancers.
Artistic Synergy of Baltimore is a consent based and trauma informed organization and all ensemble members will be led through intimacy and consent based practices to choreograph and block movements of the show, if needed. If you have questions regarding details or more information about these practices, please email us at artisticsynergybaltimore@gmail.com.