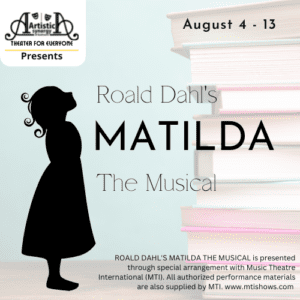 Inspired by the twisted genius of Roald Dahl, the Tony Award-winning Roald Dahl's Matilda The Musical is the captivating masterpiece that revels in the anarchy of childhood, the power of imagination and the inspiring story of a girl who dreams of a better life. With book by Dennis Kelly and original songs by Tim Minchin, Matilda has won 47 international awards and continues to thrill sold-out audiences of all ages around the world.
Matilda is a little girl with astonishing wit, intelligence and psychokinetic powers. She's unloved by her cruel parents but impresses her school teacher Miss Honey. During her first term at school, the two forge a bond as Miss Honey begins to recognize and appreciate Matilda's extraordinary personality. Matilda's school life isn't completely smooth sailing, however – the school's mean headmistress, Miss Trunchbull, hates children and just loves to punish those who don't abide by her rules. But Matilda has courage and cleverness in equal amounts, and could be the school pupils' saving grace!
August 4 – 13
Fridays & Saturdays – 8:00pm
Sundays – 3:00pm
$15 Adults
$12 Children 10 & Under
LIVE PRODUCTION
ROALD DAHL'S MATILDA THE MUSICAL is presented through special arrangement with Music Theatre International (MTI). All authorized performance materials are also supplied by MTI. www.mtishows.com.
Have you ever told a little white lie to make yourself look good? How about making up a fake sibling that you "have to go take care of" so you can run off, pretend to be that fake sibling, shirk your responsibilities, and come off as a kind and self-sacrificing sibling?
In The Importance of Being Earnest (1895), that's exactly what happens, and chaos ensues when the lies start to be uncovered! In fact, while two of the play's main characters pretend to be named Ernest, we come to see that none of the characters is truly earnest in nature. Oscar Wilde used this comedic play to poke fun at the way he saw Victorian society value appearing good over actually being good.
Oscar Wilde wrote The Importance of Being Earnest late in the Victorian Era (1837–1901). This time period was marked by very strict morals and societal expectations. Wilde actively spoke against the ruling norms of the time, arguing that much of the moral posturing of high society was trivial and hypocritical rather than sincere.
October 13 – 22
Fridays & Saturdays – 8:00pm
Sundays – 3:00pm
$15 Adults
$12 Children 10 & Under
LIVE PRODUCTION
THE IMPORTANCE OF BEING EARNEST is presented througharrangement with Concord Theatricals on behalf of Samuel French, Inc. www.concordtheatricals.com