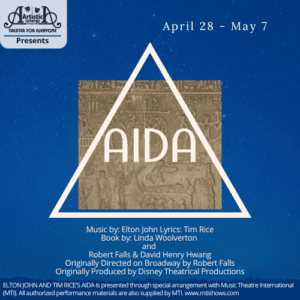 At the Nile's edge, the enslaved Nubian princess, Aida becomes romantically entangled with the Egyptian captain, Radames, who is betrothed to the Pharaoh's daughter, Amneris. As their forbidden love grows deeper, Aida is forced to find balance between her heart's yearning for Radames, and her responsibility to lead her people.
Based on the opera by Giuseppe Verdi, Elton John and Tim Rice's Aida is a timeless love story, featuring an award-winning pop/rock score from the seasoned pop duo who brought musical life to Disney's The Lion King. Rousing rock numbers and heart-wrenching ballads bring the ill-fated lovers into a new era.
April 28 – May 7
Fridays & Saturdays – 8:00pm
Sundays – 3:00pm
$15 Adults
$12 Children 10 & Under
LIVE PRODUCTION
Music by: Elton John
Lyrics: Tim Rice
Book by: Linda Woolverton, Robert Falls, & David Henry Hwang
Originally Directed on Broadway by Robert Falls
Originally Produced by Disney Theatrical Productions
ELTON JOHN AND TIM RICE'S AIDA Is presented through special arrangement with Music Theatre International (MTI). All authorized performance materials are also supplied by MTI. www.mtishows.com
Written By: Sophocles  / Translated By: Robert Fagles 
A contemporary re-imagining of Sophocles' classic tragedy, Antigone commences hours after the conclusion of a civil war in which two brothers, Polynices and Eteocles, have killed each other in a battle over the kingship. In an attempt to regain stability in the City, the newly appointed King Creon proclaims that the invading brother, Polynices, be refused burial rights. Creon further decrees than any who defy this order will be put to death. The play centers on Antigone, Polynices's sister and Creon's niece, who defies Creon's law and buries her brother. Antigone poses a conflict between passionate characters whose extreme stances on what is moral leave them incapable of compromise. This highly charged struggle between the individual, family, and the state serves as a revealing reflection of contemporary political tensions. (synopsis adapted from Diane J. Rayor, Sophocles' Antigone: A New Translation.) 
Join us as we view a classic, with a modern perspective set in 2023 Baltimore City. In this one-night event, we will examine how peoples from all sides of the sexual, political, disabilities, racial, and many more divides can learn to not just speak… but listen. Join the discussion afterwards to continue the discourse.
June 3
7:00pm
ONLINE PRODUCTION